Dr. Christine Horner was once on the clean-up crew. As a board certified plastic surgeon, she specialized in breast reconstruction surgery for cancer patients.
And she noticed something odd.
Each year, her patients were younger and younger. Breast cancer was an epidemic.
When her own mother died of the disease, she knew it was time to step back and look into the reasons all these women were getting cancer in the first place. Instead of putting them back together following the illness, was there something that could be done to avert it?
What she discovered can benefit everyone sick with Lyme disease.
She became convinced after her research led to the 5,000 year old teachings of Ayurveda. Ayurvedic healing works on the principle that our body has innate intelligence. When our bodies are in balance, that inner intelligence keeps us healthy.
Imbalance caused by illness, such as cancer, Lyme bacterial infection, or unhealthy lifestyle and diet disrupts our innate healing intelligence.
I'll have what she's having

While learning about Ayurveda, Dr. Horner made a surprising discovery. Following a luxurious spa treatment and detoxification process called panchakarma, or "five actions," she looked in the mirror. Her face appeared ten years younger. She had a renewed sense of zest and vitality. In fact, she had never felt better in her life. On fire to put this new discovery to practice, she studied like mad to get certified in Ayurveda.
Schooled in Western medicine and having worked for years as a surgeon, it is important to Dr. Horner that everything she promotes is research-based. Ayurvedic healing is, and it also has a history of development — millions of people experimenting and refining it, over thousands of years. Ayurveda literally translates as "life-knowledge."
Currently in the West, there is an explosion of empirical research into the natural approaches to health through the uses of herbs and plants for healing, as well as lifestyle factors. The research bodes well, unless you are one of those vegetarians who only eats French fries.
Lyme disease patients on standard antibiotics can also benefit from incorporating some or all of Dr. Horner's advice. A healthy diet and lifestyle includes many factors, and among the most crucial is eating a varied diet of organic fruits and veggies.
Eat your medicine

"Eating a plant-based diet is considered the healthiest type of diet around," says Dr. Horner. "Not only do plants and herbs contain vitamins, minerals, nutrients and all the other things we know are good for maintaining our health, they also contain hundreds of phytons."
Phytons are plant chemicals, powerful natural medicines. Some of them even work exactly like chemotherapy. Pharmaceutical companies study the plants, create a drug that works the same way, and then tell the public that plant medicine doesn't work.
Ayurveda says that there are fundamental truths about human beings, and that the basic rule-book says that, "if you follow these rules you'll bring your body into balance. And that balance enlivens your body's inner healing intelligence," says Dr. Horner.
Lyme infection obstructs the balance your body is trying to create. So the idea is to do as much as you can to bring it to balance. We're all different and in Ayurveda there are three doshas and nine different body constitutions. Overall though, the general rules apply across the board.
Strengthening your body's immune system is the key to regaining balance and good health. The immune system needs a variety of veggies, so vary the produce you consume. Alternating supplements on a weekly or monthly basis can also help insure your maximum benefit.
Two herbs are better than one

Supplements have synergistic effects. When paired with another supplement there is a multiplication of the healing effect. Pharmaceutical drugs do not work this way.
For example, green tea and turmeric taken together are many times more effective than when taken alone. Each of these have antioxidant and anti-inflammation properties which work better when put together.
Dr. Christine Horner has more energy than many teenagers I know. I asked her what she puts in her morning smoothies. She rotates between fruits and green smoothies, and also tosses in a comprehensive list of healthy supplements.
Along with plant medicine, she also talked about the vital importance of having practices such as mediation, exercise, and radical forgiveness. Nurture your spirit, especially if you are dealing with Lyme or any serious illness. Lifestyle factors are as important as eating a healthy diet.
For further information please go to drchristinehorner.com

Podcast
Click on podcast to listen to my 60-minute interview with the effervescent Dr. Christine Horner. She's got more energy than many of the teenagers I work with. She is a wealth of knowledge and has much more to say than I could include in this post. She also suggests ways to diminish the side effects of menopause.
If you like what you see here, please consider
signing up for our newsletter
, or become an LDRD member for full access to our complete series of audio interviews. Learn from listening to Lyme-literate doctors and other medical experts.
Breathe deep, eat your greens, and be well!
People seek out clinical herbalist Julie McIntyre when they have reached the end of their rope. They may call her after having received a formal
Lyme diagnosis
. They may have already spent thousands of dollars on standard protocols and are still battling symptoms. Then there are those who are desperate for help, but don't believe in antibiotics and put their trust in plant medicines instead. She often hears horror stories from Lyme patients who are "completely and totally frustrated with mainstream medicines."
Standard medical doctors don't normally talk to patients as though they are adults with minds of their own. When I'm sitting on that cold steel table it always feels like the doctor is using a tone reserved for imbeciles. "Can da widdle patient take a nice, big breath for me?"
This is absolutely not the case with Julie, who currently works with Lyme patients in 17 countries around the world via Skype, and in-person when feasible. A holistic healer treating Lyme since 2003, Julie uses her intuition and "everything she's got," when analyzing how best to treat each person. "Lyme is insanely complicated," and each person is uniquely affected, she says.

Instead of talking
at
her patients, she actively listens. She hears what they say, the words they use, and how they describe themselves. She learns about them in every way she can, including observing their body language, examining their fingernails, and also noting the quality of their voice. "The voice tells a lot," she says.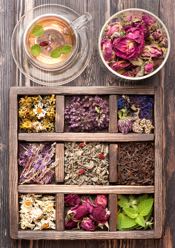 Most people suffering with Lyme, she says, also tell her their illness has become their greatest teacher. People understand that the illness is changing them profoundly, working in psycho-spiritual ways that most of us would never seek out willingly.
To guide patients through the process of healing from Lyme and co-infections, Julie uses her partner
Stephen Buhner's herbal protocol
. But she also "innovates a lot," always treating each person on a case-by-case basis. For example, she may add in homeopathic remedies and amino acids for one, and for another she may have them blend their own tinctures, therefore gaining a hand in their own healing process.
Where IS the immune system anyway?
The
immune system
, while it is a system of biological structures, it is also a system of processes. Think of it as a field inside and outside your body. Julie's work focuses on the immune system's many parts, such as our emotions. The immune system includes our guts—both physical and non-physical, as in
gut feelings
. The enteric brain is the gut brain, and it is in constant communication with our head brain. Our bodies believe what we say, Julie says, and our white blood cells respond instantly.
Herbal protocols can be used alone or concurrently with conventional medicine. One of the many benefits of plant medicine is that is it "highly flexible, and perfectly forgiving," says Julie. "I am not dogmatic, and the plants aren't either."
Her advice is to support the immune system by supplementing with herbs and foods such as reishi mushrooms, ashwagandha root, rhodiola, and astragalus. She mentioned a rock rose and tea from Greece, called
cistus incanus,
which is used both as an immune modulator and as a bug spray. To prepare as tea, use 1 tsp in 8 ounces hot water, steep ten minutes and drink at least two cups a day.
"It's important to know when enough research is enough research," she says. There is a lot of wisdom in accepting that "this shall pass," and a vital key to healing is to regain something that many of us lose along the journey, a sense of trust. "Trust the plants, trust the medicines, trust your own body."
But how can we trust nature, when nature is the thing that got us into this trouble in the first place? I asked, and Julie agrees it's a bit of a paradox.
Short of living in a high-rise guarded by guinea fowl and donning a hazmat suit every time you venture outdoors, how do you protect yourself from dangerous critters the size of a pinhead?
Her response, in three words, "Immunity, immunity, immunity."
Strengthen your immunity with plants and foods, but also nurture your emotional health, a key component of the immune system. It's vital to find something that brings you joy and do it every day. Engage with the people who lift you up, and laugh everyday. It is almost impossible to heal alone. All of us need loving and supportive relationships, especially when healing from chronic illness.
For further information about Julie McIntyre, Stephen Buhner, and the Buhner protocol, please visit
gaianstudies.org
.